Weddings for Everyone
I welcome you as you are, full stop - just as I hope you will welcome me too. As an officiant (and as a person) I aim to exist and work in a way that affirms you and your identity inclusive of race, class, ethnic or national origin, age, disability, gender identity or expression, sexual preference, religion, refugee or migrant status, houselessness, or incarcerated status.
For whatever your reason for choosing to marry, in whatever way that looks to you, I'm here for it and for you! I come to this with no agenda other than to make your ceremony what you want it to be and am working always to grow my understanding of the intersecting identities we all bring to the table - and in turn, to have the tools to best work with, be with, and support you and yours in a cared for way.
Humanist weddings are non-religious and wholeheartedly welcome all versions of spirituality, interfaith marriages, teams of one faith who want a non-religious service, or any beliefs (or non-beliefs) in the space between. They can include rituals, readings, cultural ceremonies, traditions of your choosing and/or making. As your wedding officiant, I will work with you to build a ceremony that best reflects your intentions for your wedding day. Whether it's a simple signing with two witnesses or an over the top spectacle with everyone you've ever met, I can help you create a ceremony that meets your collective wishes.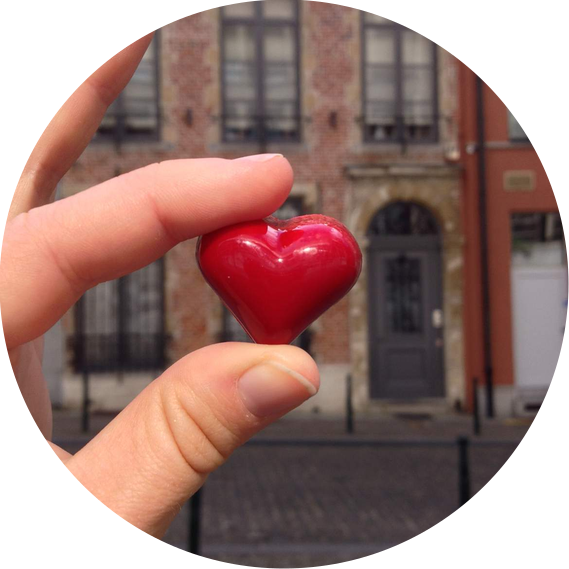 Fees and Other Details
My rates are on a sliding scale, based on:
the type and complexity of the ceremony
the size of your event
the location
the date
If you are interested in knowing more, send me a message. Include the approximate day, time, and location of your wedding (if you know it), if it's indoors or outdoors (in these pandemic times), and number of guests you are expecting. I'll send you a fee estimate and more about me and my process, and if interested, we will plan a meeting where we can talk further, get to know each other a bit more, and find answers for any pending questions.
In the event that I'm unavailable for your date, I will happily help direct you to other potential officiants to contact.
I recognize that many folks experience different financial barriers - please know that I have space for you regardless of your financial situation. Get in touch and we can find the approach that works best for you.
Planning Your Ceremony
As your wedding officiant, my role is:
to walk and talk you through the paperwork and legalities
to lead you in performing the necessary language from the Marriage Act and submit the legal documents to the province
to offer an anchor as you plan your wedding and be a guide as you bring your ceremony to life
Some people know exactly what they want for their weddings. Others may feel bound by what they think a wedding should be. If we decide to work together, you'll have my assistance in unravelling what you do and don't want, and brainstorming a ceremony that is wholly representative of you.
Depending on the type of ceremony you choose, we'll connect via email, online call, or in person to go through all the details. For fully personalized ceremonies, I'll also walk you through some more personal questions so that I can get to know you as individuals and as a team (and so you can get to know me in turn). Once I have a sense of who you are and what you're looking for, I'll draft a ceremony and together we will fine tune it till it feels just right.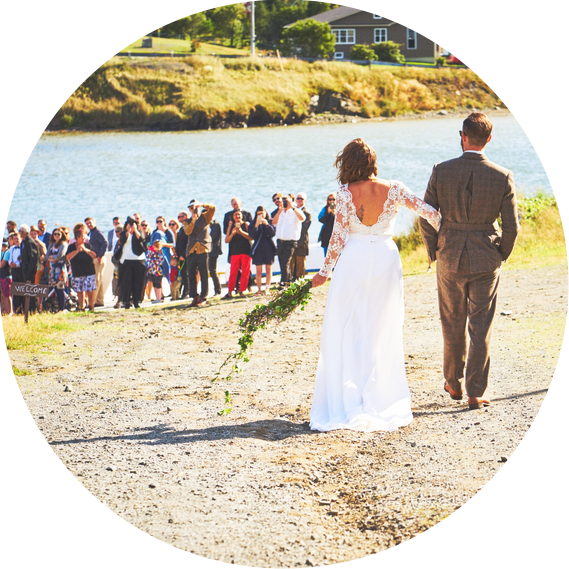 The Big Day
There is something intangible about the feeling of a wedding - it's joyful, emotional, and it exists very much in the present moment. For many, it goes by in a flash. And what we end up remembering is rarely the material things but rather the way two faces shone as they spoke their vows; the way a voice wavered or a laugh burst forth; the way traditions get rewritten to become something wholly new; the way families are forged on the dance floor. It's the love in all its glorious forms which radiates between two people and the effect it has as it echoes out, touching each and everyone who chooses to gather around them.
As your wedding officiant, my best advice to you is to make your wedding what you want it to be. It can be a quick and dirty elopement, a big top circus, or a small ceremony with your nearest and dearests at the pub. The photo to the left of this text is one way...(my pals) Tina and Adam's way to be exact! Yours may look real different and that is exactly right. Trust me when I say there is no one way to get married - whatever your two hearts desire is the path to follow and what I will help you fulfill. Contact me to get started.
Photo Credits (Top to Bottom):

Molly Johnson, Jacklyn Barber, Molly Johnson, Carl Hansen