I am a certified wedding officiant and celebrant, licensed by the Province of Ontario and Ontario Humanist Society.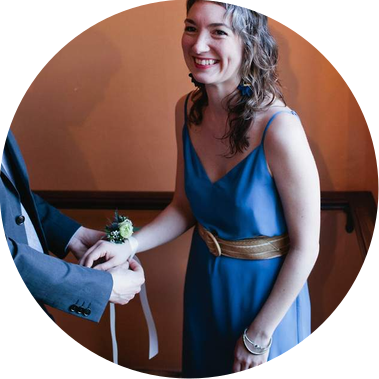 Born and raised on the infamously friendly Unama'ki (Cape Breton Island), I'm an islander at heart - sociable, resourceful, a deep believer in community, and keeper of an ever active sense of humour. Growing up next to the ocean on unceded Mi'kmaq land, I have long been conscious of our innate relationship to the natural world and carry this with me wherever I go. I am a human who delights in the world around me and if you pass me in the street you'll likely find me smiling - at other humans doing beautiful human things, or maybe just an elegant rock or particularly chipper bird. Since 2001, I've called Tkaronto (Toronto) home, and am truly grateful for the opportunity to live and work in relation to a great lake on the rich territory of the Haudenosaunee, Wendat, and Anishinabek nations, most recently the Mississaugas of the Credit. I recognize these nations and any other nations who have cared for the land as its past and ongoing caretakers, and recognize my own role and responsibility as a settler to Turtle Island as one grounded in respect, reciprocity, and allied resistance.
When I'm not officiating marriages and other life ceremonies, I exist as a dance artist - a live art maker and award-winning performer. As such, I'm no stranger to being in the spotlight nor to adapting to new surroundings and situations - I've performed in places as diverse as a bustling street corner in Marrakech or the grand Théâtre National de Chaillot in Paris. If you've ever taken in an evening of dance in your local Ontario park, you may recognize my face from a decade of summers spent dancing in the great outdoors with the Dusk Dances festival, one of many joyful projects I've been involved in inside my two decade long career in the arts. I bring this creative language to my work as an officiant alongside a deeply embedded ability to listen and understand what people are looking for - this honed through a long life of working as a dancer.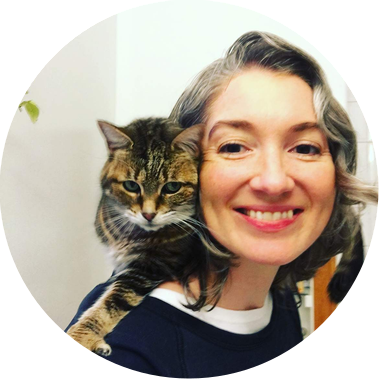 In recent years, I've also turned my lifelong love of animals into a small petsitting venture. I have a dedicated group of clients whose trust I am grateful for and whose animal companions I feel fortunate to get to invest in. Whether it's pets or weddings or creation and performance, I take great joy in the cultivation of care my multifaceted career path brings. In the space between my many passions, I'm an avid reader on an ongoing mission to expand my worldview, an eager cook and budget foodie (give me all the tacos), a solo traveller with a desire to see and be with places near and far, and at the centre of my being, a loving partner / bestie / friend / daughter / sister / auntie / and cat mom.
The ocean is my heartbeat and I try to visit as often as I can.

Photo Credits (Top to Bottom):

Jacklyn Barber, Marlowe Porter, Molly Johnson